Limb difference professionals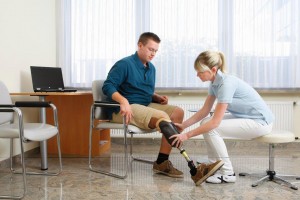 Whether your child is born with a congenital limb difference or acquires one during their life time, you are likely to meet with a team of health professionals who will work together to support you and your child. This is called a 'multi-disciplinary approach' to health care and means that a number of professionals will work collaboratively to achieve the best possible outcome for your child.
Sometimes you will meet with a group of professionals or meet with many different professionals one-on-one. This can be confusing and sometimes intimidating if you don't understand who each person is, why they are there and what they do. If you aren't sure who you are meeting, just ask them to explain who they are and what their role is. You are more likely to achieve a better outcome for your child if you have a better understanding of the services and support each professional can offer to your child, you and your family.
The following list describes the roles of key professionals you are likely to meet along your child's journey including: Paediatric Rehabilitation Specialists or Consultants (Doctors); Physiotherapists; Prosthetists; Occupational Therapists; Social Workers; and, Maternal and Child Health Nurses.
Paediatric Rehabilitation Specialists or Consultants
These medical practitioners: provide specialist care; coordinate the team and the clinic; help you to set goals and decide what's important in your child's life; and, monitor your child's growth and development with the rest of the team.
Prosthetists
Prosthetists: assess your child to decide which prosthesis (if any) will best suit your child's needs and mobility goals; design, fabricate and provide your child with their prosthesis; meet your child for regular reviews and adjustments; and, update or modify your child's prosthesis as they grow and develop.
Australian Orthotics and Prosthetists Association – www.aopa.org.au
Physiotherapists
Physiotherapists: design programs to assist your child to meet their mobility goals; develop programs to suit your child's ability (eg. games, gym); provide advice to help you look after your child's residual limb; assist with activities to improve balance, flexibility and strength to help with mobility; and, work with your child's Prosthetist to help your child use a prosthesis (artificial limb).
Australian Physiotherapy Association – www.physiotherapy.asn.au
Occupational Therapists
Occupational Therapists: help your child to achieve independence by providing assistance with daily living learning (such as dressing and eating); help to arrange access to assistive devices if required; provide specialist care to assist children with upper limb loss to use their prosthesis; assist your child to develop goals and action plans; and, liaise with schools regarding learning and accessibility issues.
Occupational Therapy Australia – www.otaus.com.au
Social Workers
Social Workers: provide you and your family with confidential counselling; provide emotional support and assistance while adjusting to your child's limb difference; assist with sourcing government assistance (eg. financial, transport, parking permits); assist with accessing local community support and activities; and, liaise with schools regarding emotional or peer issues.
Australian Association of Social Workers – www.aasw.asn.au
Maternal and Child Health Nurses
Maternal and Child Health Nurses: are often available through state government departments or local councils; provide you with information, guidance and child health support; and, offer assistance whilst adjusting to parenthood.
Maternal Child and Family Health Nurses Australia – www.mcafhna.org.au