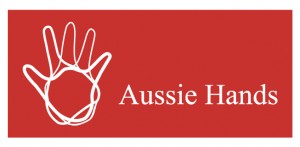 Aussie Hands provides support, understanding and encouragement to children and adults with congenital and acquired hand disabilities and their families. Aussie Hands provides opportunities for networking and exchange of information. By providing a supportive network, we aim to ensure that children and adults with hand disabilities don't feel alone.
Aussie Hands was started by Elizabeth Serpell in 2000 following the birth of her son David with symbrachydactyly. Aussie Hands organises social gatherings in most states of Australia. This enables children with hand differences to meet other and for their parents to share stories, ask questions and support each other.
Aussie Hands facilitates a Facebook Support Group for people to share information, ask questions and reduce the sense of isolation which can often be experienced by families who have a child with a hand difference. The Facebook Group is particularly beneficial for families who live in rural area of Australia and so unable to attend the events.
The team at Aussie Hands can provide guidance and support around difficult issues including decision making around whether to go ahead with surgical procedures. This can include introductions to families who have and haven't had surgery. Other programs we have held include play therapy for children under the age of 5 years and their parents, and a mentoring program for older children and adults with hand differences.
The Aussie Hands website (www.aussiehands.org) provides a range of information about hand differences, including member's stories, links to further support services such as counselling and useful gadgets and aids. The website has details on how to become a member (a one-off cost of $30 per individual or family).
Aussie Hands has close association with several key organisations. Aussie Hands is privileged to have a collaborative working relationship Limbs 4 Life. This close connection has allowed us to better support the needs of our members. In conjunction with The Royal Children's Hospital in Melbourne, Aussie Hands is currently conducting a research project to more accurately map how many people are born with hand differences, with the aim of advocating for collecting data about hand differences at birth.