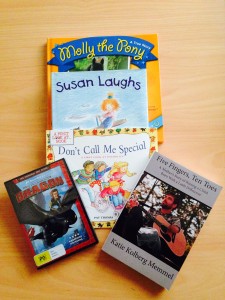 There are a wide range of books, films and toys that might interest you and your child.  Some of these resources relate to limb difference specifically, while others relate to differences and acceptance of others in general.  Some resources, particularly books and films, feature animals with limb differences which are often of great interest to younger children.  Some resources are aimed at children while others are aimed and teenagers.
Some parents share resources with other family members, educators and as tools to assist other children understand limb difference.  Sometimes resources also assist children and young people to develop their own life story, prepare for a presentation about their limb difference and to select words they want to use to describe their limb difference.
The following lists provide names of various books, films, toys and accessories (along with links to each).  In many cases the links will take you to a website where you can read reviews and purchase items online.  As some of these resources are oriented towards adults and teenagers be sure to review them personally before sharing with children.
If you know of another resource you would like to recommend please get in touch and we will add it to the list.