Assisting students to understand limb difference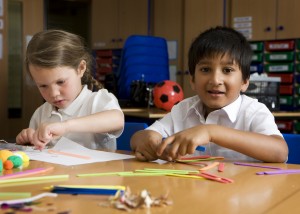 It is important to remember that your child's limb difference may be difficult to understand or distressing for some student peers. This is particularly true for children of a young age and can be more difficult if your child is returning to kindergarten, pre-school or school after a limb amputation.
Try to ensure that the school is working with you to support all the students to learn about your child's limb difference in a positive way. Addressing this matter early will positively influence acceptance of your child's limb difference by their peers and within the wider school community. Some kindergartens, pre-schools or schools will never have encountered limb difference before, in which case it will be a learning experience for you all.
Discuss disclosure with your child and teachers
It is important that your child's teachers understand his or her limb difference and promote inclusion and diversity in the classroom. You may want to discuss the type of limb difference terminology that the teacher uses within the classroom and ensure that he or she uses language that you are most comfortable with.  For example, your child's teacher may automatically use the word 'amputee' when you would prefer that that the term 'limb difference' is used.  Once your child's teacher is aware of the terms you and your child are most comfortable with, the greater the likelihood that this will be the language used by your child's peers.
Some children do not want the school or parents to specifically discuss their limb difference with student peers, and instead talk about it in their own time and independent of adults. That is fine and is a suitable approach for some children and young people.
However, other children may want to have their limb difference disclosed and discussed with student peers. In these instances the child or young person may want a teacher or a parent to assist or they may want to handle it on their own.
Some ideas and tips you and your child might want to consider when discussing limb difference with student (or other sporting and social) peers include the following:
Share a letter about your child with fellow parents
You may want to share a letter about your child's limb difference with parents and fellow students.  This may be particularly useful when your child is commencing kindergarten, pre-school or the early years of primary school.  Speak to your child's school who will need to approve the letter being shared with parents and can support you to ensure it gets to all relevant parents.
A letter can be a great way of increasing the knowledge of other parents, many of whom may not have met a person with limb difference before.  It may also assist those parents to answer any questions that their child have about your son or daughter.  It can also enable you to use language that you and your family are comfortable with, and inform them if your child has a 'special name' (eg. 'magic hand' or 'super leg') for his or her missing limb. If you are using medical terminology in your letter, remember that not everyone will be familiar with such terms so it's a good idea to provide a simple definition also.
If you decide to use a letter, you will no doubt have a good idea of what to include.  However, some elements you may want to consider including in your letter may be:
An introduction to your child
A photograph of your child
A description of your child's limb difference
Any terms or words your child uses to describe his limb difference or prosthesis
Information about your child's abilities, skills and interests
Provide responses to common questions that peers may have about your child's limb difference – eg. Why does Andy only have one leg/arm?, Will I lose my leg/arm too?, Why is Mary's leg/arm made of plastic?, Does Andy's leg/arm hurt?, Does Mary need help?
Letting their children know it is OK to speak to teachers if your child is distressed or needs assistance
Offer to respond to any further questions that parents may have (which could be coordinated by the school)
Conduct a session about limb difference  
You may want to ask the school whether an information session about limb difference can be conducted with your child's peers. The school should only hold a session with you and your child's permission.
Before talking to students, you should consider their age and maturity – and anticipate difficult questions they might ask – before starting the discussion.
Whether it is the teacher, you or your child conducting the session some discussion points to consider are: discussing your child's limb difference; dispelling any myths or worries that peers may have (eg. a common question among younger peers can be "Will I catch it?"); reinforcing your child's abilities; and, explaining whether there is any specific assistance your child has and how peers can support. You may also want to consider bringing along prosthetic limbs, books or other pieces of equipment to show to peers.
Ask a member of your child's health team to speak to your child's classmates
While healthcare professionals are very busy people you may want to consider asking a team member to visit the school and speak to your child's class.
Establish a 'buddy system'
If a 'buddy system' doesn't already exist in your child's school, you might like to ask the school for a volunteer 'peer buddy' for your child. This may include one buddy or multiple buddies, it might be a buddy in your child's class or it could include buddies in older year levels. Buddies are particularly valuable if a child is returning to school after an amputation and 'getting used' to being back at school. The buddy might be able to assist your child with navigating the corridors, accessing playgrounds, and carrying bags and materials.
Connect the school with Limbs 4 Life 
Limbs 4 Kids staff can speak to your child's school and/or respond to questions that teachers may have regarding limb difference.