Enrolling in kindergarten or pre-school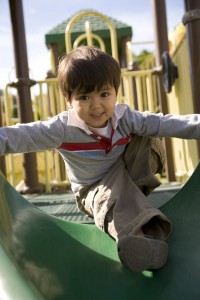 Starting kindergarten and pre-school is an important social and learning milestone in the life of your child. Your child's commencement in kindergarten and pre-school can lead to a mix of emotions for you and your child; emotions that can range from uncertainty to excitement.
This period can also be a time when you have many questions and concerns regarding how your child will adapt to this new environment and whether any additional support or adaptations will need to be made to positively accommodate your child's limb difference.
Transitioning your child into kindergarten and pre-school may also be a period of significant change for parents as, for some, this is the first time that their child has entered into coordinated care outside of the home environment. It is also a period of change for your child who will enter a world that is focused on story time, art and imagination, talking and listening, play time, exploration, developing social skills and making new friends.
Deciding whether your child is ready to start kindergarten or pre-school may be something you want to discuss with your Maternal Health Nurse, Social Worker or other health professionals.
Selecting a kindergarten or pre-school
In Australia kindergarten is not compulsory, whereas pre-school is compulsory preparation before your child commences primary school in some states and territories.  Parents can select from government, Catholic and independent providers; the choice of which will determine funding arrangements and costs.
Before enrolling visit the kindergarten or pre-school, assess its grounds and facilities, and identify any assistance or accessibility needs your child might have there. In addition, ensure that information about the school's procedures, polices and service license is displayed and/or available to you.
Enrolling your child in kindergarten or pre-school
When selecting and enrolling your child in kindergarten or pre-school arrange to meet with relevant staff to discuss your child's limb difference and any specific needs or support requirements your child may have.
Ensure that the kindergarten or pre-school is aware of your child's abilities and limitations, is inclusive and respectful with regards your child's needs, is able to provide your child with the appropriate level of support, and that the facilities are accessible (if required).  Meeting staff early will provide them with time to organise the best plan of action for your child, investigate funding opportunities and make any relevant modifications your child might need.
Every state and territory, and education sectors, have different arrangements. Your child's kindergarten and pre-school may develop an individualised plan that is family-focused and incorporates the involvement of specialist teachers and support agencies designed to ensure that your child's education, development and participation is maximised.  Speak to staff at your child's kindergarten or pre-school about their arrangements and/or discuss your child's situation with the relevant Government Education Department, Catholic School Association or Independent School Association in your state or territory.  Visit the Education departments and associations page for links to these.
The Inclusion Support Program (ISP) is a key component of the Government's Child Care Safety Net and will provide support to early childhood and child care (ECCC) services to build their capacity and capability to include children with additional needs in mainstream services; providing them with an opportunity to learn and develop alongside their typically developing peers.  If you think your child needs additional support in the early years you may want to speak to your provider about their eligibility under this funding program.
When enrolling you generally need to provide information that includes: your child's name and address; details about yourself and any other parents, carers or guardians in your child's life; details of people who can collect your child; and, any relevant medical health and immunisation status details.
We understand that discussing your child's limb difference can be quite emotional, however early childhood educators are professionals who care for their student and parent community and will want to support you as best as they can.
When speaking with your child's kindergarten or pre-school ask to have all relevant staff present at the meeting. You may want to bring your own support person to that meeting; whether that is your Social Worker, a family member or friend.  Having another person present can provide you with emotional support and assist you in taking down notes. Visit the Preparing for a school meeting page for more information.