Selecting and enrolling in a primary or secondary school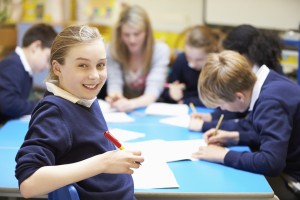 The primary and secondary school education years are a significant period in the life of children, young people and their parents.  During this time parents select the school/s their child will attend, learn about additional support available to their child, build connections with educators, build relationships with other parents, watch their child develop independence and become part of their child's learning.
It is during this period that young people develop independence, undertake considerable educational development and learning, build friendships, enter into adolescence, and participate in a range of social and sporting activities.
During the education years your child may experience some challenges and concerns that may or may not be directly related to their limb difference and your child may seek your support to overcome any difficult issues along the way.  Equally, your child will be keen to share in his or her achievement and successes during this important period of their life.
If your child is returning to school after an acquired amputation, your child, their educators and peers may need your support and guidance so that they can all successfully adjust to this change. The section Returning to school after a limb amputation discusses that issue in more detail.
Selecting a primary and secondary school
The selection of a primary school and secondary school for your child is one of the most important education decisions your family will make. Selecting a school often involves school visits, meeting with school management and educators and attending orientation sessions prior to school commencement. In addition, factors such as travel, finances and before/after school care may need consideration before a school is chosen.
In some cases, children with a limb difference (considered to have a disability) may be eligible for additional funding and support whilst attending primary and/or secondary school.  Approved eligibility may lead to additional funding, provision of accessible resources and assistance in the classroom.  Eligibility for support differs between states and territories (as well as education sectors) and it is best to discuss your child's specific needs with your preferred school.
You may also want to discuss your child's situation with the relevant government department, Catholic school association or Independent school association in your state or territory. Visit the Education departments and associations page for links to these in each state and territory.
Enrolling your child in primary and secondary school
When meeting with potential schools, or enrolling your child in a school, it is important to discuss your child's specific needs with the staff.  Discussing your child's individual needs is important so that their schooling can be stress-free and positive for all parties. You may find that your child's school has never educated a child with a limb difference so you might need to explain this in detail with school management, teachers and other key staff.
We understand that discussing your child's limb difference can be emotional, however educators are professionals who care for their student and parent community and will want to support you as best as they can.
When speaking with your child's school ask to have all relevant school staff present at the meeting. You may also want to bring your own support person to that meeting; whether that is your Social Worker, a family member or friend.  Having another person present can provide you with emotional support and assist you in taking down notes. Detailed information about meeting with school staff can be found in the Preparing for a school meeting section.
Meeting with the school will ensure that all relevant staff understand your child's limb difference and support your child might need. Your child's school will likely want to put into place an Individual Plan for your child.  These plans have different names in different states and territories and in different educational sectors (eg. Individual Education Plan, Negotiated Education Plan, Individual Learning Plan). These Plans largely cover: funding eligibility; required accessibility modifications; classroom assistance; curriculum; and, any other specific needs your child may have. Depending on your child's needs, school location or education sector your child may also be allocated with one-on-one support from a specific staff member in the school (eg. a Student Support Services Officer).
It is important to note that all jurisdictions must comply with the Disability Standards for Education, 2005 (Commonwealth of Australia) that clarify to education providers their responsibilities under the Disability Discrimination Act 1992 (Commonwealth of Australia). You may also want to visit the Disability Standards for Education: A Practical Guide for Individuals, Families and Communities website developed by the University of Canberra for more information about this education legislation.
Don't hesitate to raise any concerns with your child's school staff and request a copy of your child's Individual Plan.
Over the course of your child's education years you and/or your child may be asked to provide information related to your child's limb difference with new teachers or at the beginning of each school year.  This may, at times, feel intrusive or frustrating.  But, it is important to remember that the school is asking these questions and requesting information to ensure that your son or daughter is best supported in the school environment and that all opportunities for additional resources and equipment are explored.