Sharing news about your child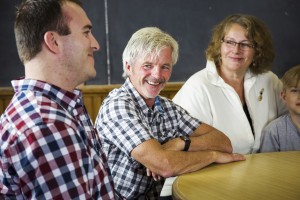 Determining when, how and with whom to share information about your child's limb difference is a very personal decision.
Some parents, who are aware they are having a child with a limb difference, choose to tell others prior to their baby's birth while others choose to wait until the baby arrives. Parents that learn about their child's limb difference following the baby's birth or after their child has had a limb amputation may also delay telling others, often until they feel they are ready and have adequate information to share.
There is no right or wrong way to share your news; everyone is different and you are the best person to determine when and how you will tell others that your child has a limb difference.
Talking about a child's limb difference can be difficult for some families. It can also be tiring as you may be reciting and repetitively sharing the same information. You may also find that you receive a wide range of reactions from people, whether they are persons close to you or professionals, and it is best to be prepared for this. Reactions may range from being very positive and supportive to ones that are unsympathetic or insensitive. Negative reactions are often because the person doesn't understand limb difference, so you may need to assist them to gain an understanding and respond positively.
As a parent you will know more about your child than anyone else. You are likely to have sought considerable information and conducted a lot of research regarding your child's limb difference. You are the best person to educate others about your child, even if it may be tiring and frustrating at times.
The section Talking about limb difference provides information and tips about ways you can share your news and inform others.