Talking about limb difference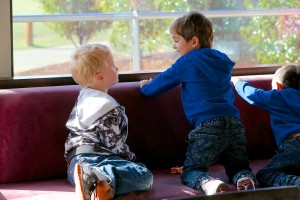 Talking about a child's limb difference and/or limb amputation can be difficult for some families.  It can also be tiring as you may be repeatedly reciting and sharing the same information. You may also find that you receive a wide range of reactions from people – whether they are persons close to you, professionals or complete strangers.
Reactions may range from being very positive and supportive to ones that are unsympathetic or insensitive. Negative reactions are often because the person doesn't understand limb difference, so you may need to assist them to gain an understanding and respond positively.
Because of this it is best to be prepared for these situations and any unwanted attention that your child and you may receive.
Parents have different philosophies about how to address their child's limb difference. Some parents feel that it is not necessary to draw attention to their child's difference because people are more alike than they are different. Whereas others want to discuss their child's limb difference to enhance inclusivity, acceptance and educate others. Parents should reflect on their personal philosophies early as it may determine how you and your child will communicate with peers, school friends and others.
This page provides some advice for discussing your child's limb difference with family members, friends, children and strangers. Specific information about how to talk to other children in your family can be found in the Supporting siblings section.
Talking to others about your child's limb difference
In everyday or new activities and social situations it is not unusual for adults and children to stare, point, ask questions or offer advice regarding your child. Your child and you might become the attention of strangers at the shops, playground, medical facilities or when attending a social event.
Sometimes adults and children may make comments that you feel are invasive or make you or feel uncomfortable.  However, it is important to remember that generally people are not being deliberately hurtful.  Rather, people (and in particular children) are naturally inquisitive and may wonder about your child's limb difference.
It is not unusual to struggle in these situations and to 'want to be left alone'. However, when people do ask questions or make comments it is a good idea to be prepared and have strategies in place for how you will deal with it. This is a form of personal self-advocacy for both you and your child.
Parents of babies or very young children with limb difference are often comfortable about answering questions in the presence of their young child. However, children understand a lot more than what they can say, so it is a good idea to use positive language and be mindful of the information your son or daughter might absorb.
When speaking to others it is important to use positive language, be polite and use words that you are comfortable with. If your child is with you it is also a good idea to acknowledge their presence. These experiences are often a chance to positively educate members of the community about limb difference.
As your child grows it is a good idea to include them in any discussions and be guided by how he or she would like their body discussed with others. Your child might like to assist you by showing their limb difference, their prosthetic limb or explain why their limb is missing when talking to others.
Talking to children about your child's limb difference
Children are naturally inquisitive beings. Children are learning about the world around them, the people they encounter and are looking for consistencies in their environments. So, if a child meets another child using a wheelchair, missing a limb or using a prosthetic limb for the first time they may be taken aback or confused.
As a result children who meet a child (or adult) with limb difference for the first time may stare, point, ask questions or seem fearful. Generally, these actions are not meant to be inappropriate it is just that your child's peer is trying to understand.
When responding to questions from an enquiring child, and depending on their age, you may want to cover a number of topics. Whether you utilise these will be dependent on the age of the child. It can also be a good idea to include the child's parent in the conversation as it will help to ensure that the parent understands and an ongoing positive conversation can continue in their own household. Topics may include:
Explain why your child has limb difference
Point out that, while your child has a limb difference, they are more alike than different to other children
Highlight that your child can do all or most of the things that other children can do
Use language and words that you and your child are comfortable with, which may also require you to provide brief definitions or explanations
Affirm any fears that other children may have in a sympathetic manner and minimise any fears that he or she may have regarding limb difference.
Some common questions asked by children include:
"What's wrong with Andy's leg?"
"Why is Jane's arm different to mine?"
"Johnny has no leg so does that mean I won't have mine one day too?"
"Why doesn't Charlotte have a foot?"
There are a number of ways you might tackle common questions from children. Depending on the child's age and whether your son or daughter wants to be part of the conversation you may want to consider some of the following approaches:
Diversion. "You're right Mary, Andy's leg is different to yours.  But mine is also different to yours.  How is mine different Mary?"
Focus on similarities rather than differences.  "That's right Sam, Jane's arm is different to yours.  But Jane can still do most of the things you can do.  Did you know that Jane can tie her shoelace just as you can?  Jane also loves to draw pictures and I heard that you like to draw pictures too? Jane loves riding her bike, do you like riding bikes too Sam?"
Reduce fears.  "Peter, Johnny is missing the lower part of his leg because he had an accident when he was young.  It is very unusual for children to have accidents like that so you should try not to worry that it will happen to you.  Did you realise that Johnny uses a prosthetic leg which basically replaces his missing leg and because of that he is able to ride his bike and even play football".
Educate children about limb difference (often used with older children). "That's right Chris, Charlotte doesn't have as many toes as you because she was born that way. But Charlotte can still do many of the things you can do, can't you Charlotte?" 
Communicating with other children and using positive language helps them to understand your child's limb difference. It also helps children to learn that the world is made up of interesting and unique individuals. By helping children to understand, in a tactful and age-appropriate manner, there is a much greater chance that your child's limb difference will be better understood and accepted by his or her peers.
Children with limb difference responding to questions
It is inevitable that through your child's life he or she will be asked questions about their limb difference; in and outside of your presence.
Where possible try to build confidence in your child so that he or she can handle limb difference questions while growing up.
Pre-school and school-age children should be encouraged, if possible, to answer questions in their own words. It might be helpful to equip your child with a jointly prepared script that contains answers to common questions about their limb difference. Your child can then practice their script or answers with you, health care professionals, family members or teachers. It can be very helpful if your son or daughter has something simple to say and that they feel comfortable about saying it.
Children with limb difference also often find interesting and humorous ways of responding to questions from others. Many young people and adults with limb difference are known to use funny anecdotes or stories to explain their limb loss. Some common ones include:
"A crocodile bit my leg."
"My arm got stuck in a hole and when I pulled it out my arm didn't come out."
"It was eaten by ants."