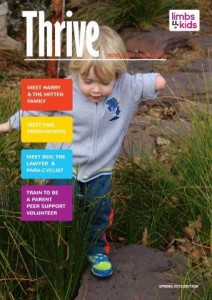 The Spring edition of Thrive magazine is now available.
This edition features articles about: Harry and his parents Jen and Peter Mitten; Ben Swain, an adult who grew up with limb difference to become a lawyer and para-cyclist; two Prosthetists, Cameron and Patrick; Jessica Smith; and, information about our upcoming webinar Parent Peer Support Training program.
If you would like hard copy versions of the magazine just email kids@limbs4life.org.au or call 1300 782 231.
We hope you enjoy the read!
2nd September 2015