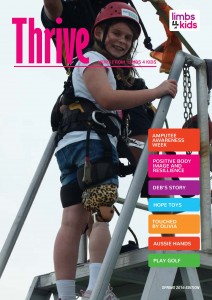 The Spring 2016 edition of Thrive magazine is now available.  This edition has a focus on building resilience in children and young people, as well as articles about some great organisations we collaborate with or support.
Kayla, who herself has a limb difference, has written a very personal letter full of encouragement and tips to all children about to start school. Dr Tatangelo discusses the importance of building positive self-esteem and resilience in children. Deb discusses why her son's limb difference was not a big issue in their household, and why taking this approach inside and outside of the family helped her son to become the resilient and successful adult he is today.
You can also read about some great organisations – Aussie Hands, Hope Toys, Golf Australia and Touched by Olivia.
If you would like hard copy versions of the magazine just email kids@limbs4life.org.au or call 1300 782 231.
We hope you enjoy the read!