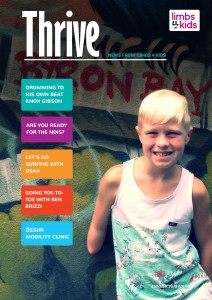 The Summer edition of Thrive magazine is now available.
In this edition you'll meet eight-year old Knox, who lost his arm due to an accident when he was four, and Ben who was born in the 1970s and grew up as a below-knee amputee.  Other articles include information about the Disabled Surfers Association of Australia, the Limb Clinic Team at Sydney Children's Hospital (Randwick), the Össur Mobility Clinic, award winning photographs of children with limb differences, the NDIS and an Australian study into fibula hemimelia.  Plus much more …
If you would like hard copy versions of the magazine just email kids@limbs4life.org.au or call 1300 782 231.
We hope you enjoy the read!
24th November 2015