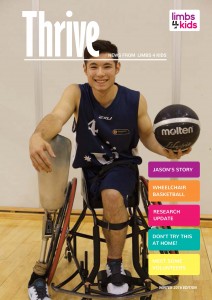 The Winter 2016 edition of Thrive magazine is now available.
In this edition you'll meet Jason who became an amputee as a result of an accident when he was fifteen, hear about Brian who was born with a limb difference and now plays high-level wheelchair basketball, learn about amputee stuntman Chris, read about two new books and learn about the Limbs 4 Kids program evaluation being conducted by Monash University. Plus much more …
If you would like hard copy versions of the magazine just email kids@limbs4life.org.au or call 1300 782 231.
We hope you enjoy the read!