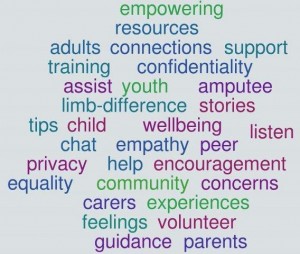 Are you interested in being trained as a 'Parent Peer Support Volunteer'? If you are the parent/carer of a child with limb difference or an adult who grew up with childhood limb difference this volunteer opportunity might be for you?
Trained Volunteers can then be matched to other parents / carers seeking the support of another person who 'has been through what they are going through'.  Peer support may be provided over the phone, via an email or occasionally a face-to-face meeting.
The FREE training will involve participants being police checked, taking part in a one hour webinar training session (Tuesday 20th October 2015, 8pm EST) and and undertaking a short survey after the training.  You will also receive a Program Manual and full support from Limbs 4 Life staff.  Volunteers must be based in Australia.
If you would like to reserve a place in the training or want more information about the Parent Peer Support Volunteer Program contact Fiona at fiona@limbs4life.org.au or call 1300 782 231.