Adjusting to your child's acquired limb difference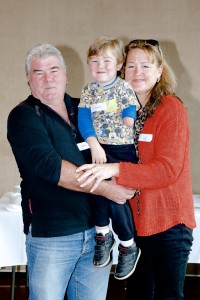 Adjusting to your child's acquired limb difference will be life changing for your child, yourself, siblings, family members and friends. If your child is in school this change will also affect your child's educators and school friends.
Sometimes a child and their family know in advance that they will be having a scheduled limb amputation, allowing time for families to prepare for this surgical procedure.  In this instance you may have had time to access information, been part of the planning with medical professionals and able to discuss the scheduled amputation with your child and others in your lives.
At other times a child's amputation may occur suddenly because of an emergency and sometimes the amputation may be a life saving measure. In this case you may not have had time to access information or discuss critical decisions made by your child's medical team.
Parents of children with an acquired limb difference often report an array of conflicting emotions. We understand that learning your child is going to have, or has had, a limb amputation means there will be lots of information to take in and naturally you might feel overwhelmed, concerned, angry and have lots of questions. In some cases, and particularly when your child has lost a limb due to an emergency, you may also feel relief and thankfulness.
Regardless of the circumstance, adjusting to your child's limb difference means that you may find yourself on a rollercoaster of emotions. You may find yourself experiencing a sense of grief and feel worried about the lifelong impact that the limb difference will have on your child. You may also feel overwhelmed because you know little about limb difference, don't know what to expect, don't know how it will affect your child and family and not sure how others will react. These feelings generally subside over time and you should not feel guilty about the way you are feeling.
You are also likely to be overwhelmed supporting your child, as he or she has just gone through a significant physical and emotional experience. Every child responds differently to loosing a limb. It is important to reassure your child, explain what has happened (or what will happen if an amputation is scheduled) and the reasons why it is happening. If possible, try to ensure that communication with your child, any siblings and within your family remains open and honest.