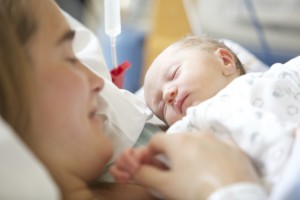 When your baby is born take time to marvel at him or her and spend time bonding. Nine months of eager expectation has arrived and you should enjoy spending time with your new and precious child.
You are likely to face all the challenges and experiences common to all new parents. Try and look after your health and well-being during this time of adjustment.
As the parent of a baby born with a limb difference you may experience some additional challenges and adjustments.  In the first few days after your baby is born he or she will go through tests and assessments. Try not to worry that your baby is away from you for periods of time in this early stage, and remember that the medical team have the interests of your baby and yourself at heart in doing these assessments. Speak to the medical team as you may be able to accompany your baby while some of these tests are taking place. Early tests and assessments will assist with your baby's ongoing medical and healthcare plan.
The medical team are also there to assist you to adjust to being a parent.  The nurses and midwives can assist you to learn how to bathe, feed, clothe and look after your baby. The medical team can also arrange for counselling or support if you need to talk to someone while you are in hospital.
In the first few weeks you will also start to meet a variety of medical and allied health care professionals who are there to support your child and your family. You may also be starting to make medical and health appointments (inside and outside of the hospital). As many parents experience some sleep deprivation or changes to sleeping patterns when a new baby arrives, it's a good idea to keep a notebook and folder handy to record appointment details!
You might also start hearing professionals using new words and terminology around you.  You may want to refer to our page Terminology for more information about commonly used words. Remember, don't hesitate to ask questions if anyone uses words or terms that you do not understand.