Assisting your child after a limb amputation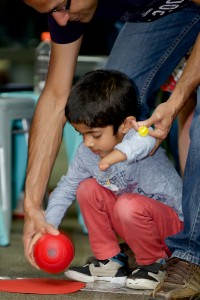 A limb amputation is a major body change and your child will need time to adjust physically and emotionally.  Understanding what your child is experiencing will help you to assist and support in the best way you can.
Physical adjustments
A limb amputation can often be accompanied by significant physical adjustments for a child. Your child will need to heal from the surgery, participate in rehabilitation and return to his or her normal activities. The physical adjustments often depend on the site and level of amputation. Your child will need to work on regaining muscle strength, coordination and balance.  Your child will also need to adjust to managing everyday activities; whether that is with or without a prosthesis.
Physical adjustments can take time and impact on not only your child but also your family. Learning to function with a prosthesis (or other devices) can be tiring for children. But with hard work, perseverance, support and encouragement from your family and medical team your child will successfully adjust to these changes.
Emotional adjustments
A limb amputation can often lead to emotional adjustments for a child. These emotions vary from child to child. The type of amputation does not dictate how a child will react – each child will respond in their own personal way.
Your child may be worried, sad, experience fear or feel uncertain about what the future might hold. Your child might also feel nervous about returning to the activities he or she used to do. Your child may also be concerned about how siblings or peers will react to his or her limb difference. Your child may also feel worried about how you, as a parent, will react and adjust to their limb difference. All of these feelings are quite normal for a child who has experienced limb loss. However it is important that your son or daughter feels safe to discuss feelings, concerns and ask questions.
As a parent you will be involved in your child's rehabilitation planning and prosthetic choices. Where possible and appropriate, try and include your child in these discussions and plans. Try and assist your child to understand what is going to occur during the recovery and rehabilitation period. You may also want to include a medical specialist part of these  in these discussions with your child so that any health or medical matters can be explained.