Offering a helping hand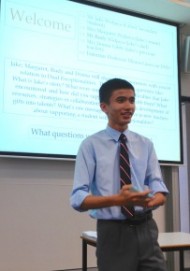 Jake Widjaya, a 17 year old student working with the Sydney Children's Hospital (SCH) to help kids living with a limb difference, would like to offer his DVD "My Helping Hand" to families of a child with a limb difference who may want to view it. Jake was born with a hand limb difference, and has written the following information.
I started making the DVD "My Helping Hand" when I was nine years old. Although the DVD is 10 minutes long, it took me 15 months and 20 hours of film to make it. I interviewed those people who had helped me (and continue to help me) in my life. They included Dr Adrienne Epps (Rehabilitation Specialist) and Leslie Wollin (Occupational Therapist) from the Sydney Children's Hospital, Professor Miraca Gross (Director of GERRIC) from the University of New South Wales (UNSW), and I also interviewed my mum and dad about what it is like for them to be the parents of a child with a limb difference. I wanted to give a message to able-bodied people and kids that it's alright to have a limb difference, because it's just a difference. I wanted parents and other kids with a limb difference to know that it's going to be alright and that there are people who can help.
My main message is that there is always a way to do things and that the only thing that can possibly stop you, is yourself. I have done lots of things that people generally think you need two hands to do. I have played musical instruments (recorder, violin, guitar); played tennis, croquet, soccer, cricket, basketball; learnt Tae Kwan Do, swimming, surfing and sailing; ridden horses, camels, Billycarts, Quadbikes and Segways; made circuit boards and woodwork items; played handball, table soccer/foosball, arcade games; play Xbox, Playstation and PC games. Basically, I always find a way to do things.
At my High School, an Outward Bound Australia (OBA) Program known as "Cranbrook in the Field" (CITF) is compulsory for Years 7-10. OBA's programs are pretty tough as they are based on the training received by World War II British seamen to survive in the North Atlantic Ocean. During CITF I did activities like trekking (sometimes 140 kms) carrying my belongings in a backpack, sleeping under Bivvies, rock climbing, raft building, low & high ropes courses (the Tarzan ropes were a bit challenging for me however I worked out a way for me to successfully complete the activity), flying fox, rafting, abseiling, navigating, river crossings, caving, canoeing/kayaking (I used my gym rowing machine prosthesis) and mountain climbing (I kept my balance with one walking pole, especially climbing to the summit of Mt Morgan in the Kosciusko National Park. At 1852m above sea level, this is one of the highest mountains in NSW). So, there is always a way to do things.
Both the SCH and Westmead Children's Hospital distribute about 20 of my DVDs to families every year. The DVD is also used in medical staff training at the Children's Hospitals, some Primary Schools use it to teach kids about differences and it is used by UNSW as part of the Bachelor of Education and the Graduate Certificate of Gifted Education programs. Also it is used in Canada (Simon Fraser University, British Columbia) and in the USA (University of Iowa); it was also used in my participation in the Sydney Children's Hospital Foundation's Gold Telethon. I use my DVD in sessions I present to conferences and meetings, and I also use it in my annual lectures at UNSW (which I commenced when I was 10 years old).
I am continuing to help SCH by mentoring other kids with a limb difference, talking with expectant/new parents of a baby with a limb difference, and we are currently working on a project to develop a resource to help older children and teenagers deal with other people's reactions to their limb difference. This is a project which I commenced last year however as I became busy completing the HSC, my Silver Duke of Edinburgh Award, training and competing in my sport of Fencing a couple of times a week (I also coach the beginners), and any spare time was spent hanging out with my mates and playing video games. I recently obtained my driver's 'L' plates, and I am now also back on track working with SCH to have my current project completed sometime in the near future.
Thank you for reading my article,
Jake.
If any of members of the Limbs 4 Kids community in Australia would like a copy of Jake's DVD "My Helping Hand", send an email to kids@limbs4life.org.au and we will coordinate with Jake to send a copy. You can also view a video about Jake that was used as part of the Sydney Children's Hospital 'Gold Telethon' in 2013 and is called 'Jake's Story'.