My brother and I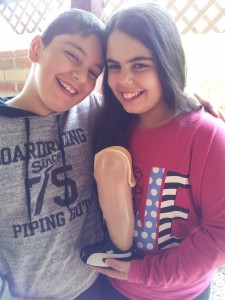 I'm Claudia Di Guglielmo. I am eleven years old and my brother Lucas has a limb difference.
I was only two and a half years old when Lucas came home with his first leg. I remember walking into my house with Lucas and my Dad playing on the floor with Lego blocks. Then something caught my eye. On the other side of the room a leg was leaning against the wall. I knew straight away that something was different. I remember feeling very scared because I thought my parents were going to take my leg off too. My parents explained to me what it was and how it would help Lucas. They showed me how to put it on and take it off. I soon became very confident around Lucas' leg, and started pulling the legs off my Barbie dolls so they all looked like Lucas.
Some advice I would give to other siblings in the same situation is to not be afraid. Even though Lucas has a prosthetic leg, it doesn't change the way he is. I am so used to it now that I can't imagine Lucas with two normal legs. It would be weird …
To me, I feel like I have a responsibility to look out for him, I suppose that is because I'm his big sister. Sometimes I feel sad because he might get teased at school or he might feel sore. I was also a bit sad because when we went to Luna Park as a family, Lucas wasn't allowed to go on certain rides because of his leg. I thought that was unfair. I used to get teased at school because of Lucas myself. Kids used to want to know from me why Lucas wore a prosthetic leg, but we resolved this problem by getting the teachers involved. They soon stopped asking me so many questions.
My relationship with Lucas is just like every other brother-sister relationship. We play, fight, share secrets, laugh … fight some more, and then forgive each other. We love playing Minecraft on the Xbox, playing Charades and riding our bikes at the park. I am also happy that Lucas is able to play soccer, football, cricket etc. I love to see him so active and enjoying himself and when he is sore and can't wear his leg, he never complains! This makes him a very strong and resilient person in my eyes. I love him so much.
Even though Lucas has a limb difference, it's who he is and I wouldn't change a thing!!!
My brother and I by Claudia Di Guglielmo