My little hand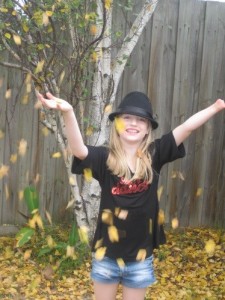 Hi, I am Jessica Fraser and I am 8 years old. I am so lucky to have a little hand. My friends don't care that I have one hand, they love it. They think it is OK to have one hand. Some of my friends call it 'Sandy' (handy Sandy). I sometimes use it as a puppet. I can make my hand do a little nod and it looks so cute. My friends accept me, they encourage me and they are supportive. We all get along really well and have lots of fun. I love my friends!
I play in a netball team on Saturdays. I am able to catch the ball, pass the ball and shoot goals. My team are great. If we lose we don't care because we know we did our best. When I was 6 years old, I went to watch an older girl, Jemma, who has a little hand like me, play netball. Watching Jemma play, made me feel confident that I could play too.
I have an older sister called Ashleigh and an older brother called Lachlan and my two wonderful parents Tania and Iain. I have such a great family. They think I can do everything and I can! They love me and I love them.
This is my life and I love it! I could never have a greater world than this one. I may have one hand, but I can still do everything! My little hand is the best thing about me and I think it is great.
It does not matter if you have one leg, or one hand, or if you have lost a finger or a foot – you are a person and you are special! The best thing to do, is to stay positive and try your hardest.
I have made a list of some tips to help other people with a little hand. I hope the tips might help you!
Explaining 'My Little Hand' to kids at school
When I started Kindergarten and Prep my Mum and I made a book called 'My Story' which tells the story about my little hand. When I share the story with children who I have not met before, it helps them to understand about my hand and it gives them a chance to ask questions. Then when I am in the classroom or on the playground they do not stare at my little hand, bug me about it or ask me lots of questions.
Tying my shoelaces
First of all I put my shoe on my foot, then I place both laces in one hand and pull the laces upwards which tightens them. I then use my little hand to hold one lace only against my leg and then I use my normal hand to take the other lace around the back of the lace that is against my leg and cross the laces over. I then make a loop with one lace and hold the loop in place against my shoe with my little hand, then I make a second loop with my normal hand, and I then use both my hands to tie the two loops into a bow.
Doing up buttons
I put my little hand on the material right next to the button to make the button stable. I then push my finger through the button hole towards my body and use my thumb to push the button through the button hole towards my finger. My thumb and finger work together to wiggle the button through the hole.
Cutting up food
I hold the knife in my right hand and place the knife on top of the food that I want to cut, I then use my little hand to press down on top of the knife. I slide the knife backwards and forward while pressing on the knife and that's how I cut my food. I then just put the knife down, pick up my fork and start eating.
Computer Key Board
When I use the keyboard I use my little hand for the nine letters on the left hand side of the keyboard. I also use my little hand for shift, caps lock and tab. I use my thumb on my normal hand for the space bar.
My little hand by Jessica Fraser